EMIRATES DUBAI SAIL GRAND PRIX PRESENTED BY P&O MARINAS | DUBAI
DUBAI SAIL GRAND PRIX Info
Tickets for this event are currently not available.
Don't miss the sales opening, be the first to know via email when tickets become available!
Premier Waterfront Grandstand in partnership with Nikki Beach Resorts & Spa Dubai
New in 2023! Experience the thrilling drama of the world's most exciting racing on water, mixed with the lively and luxurious energy and signature atmosphere of the iconic Nikki Beach Resort & Spa Dubai. For the first time in Dubai, the world famous Nikki Beach will host guests just meters from the SailGP's boundary-breaking racing
Includes:
Premium grandstand seating with far-reaching views of the racecourse
Access to a Nikki Beach lounge to enjoy signature bites and drinks
Two complimentary beverages and free-flow soft drinks
Après-Sail: Entertainment from Nikki Beach Dubai's resident DJs & live music after racing
Priority parking
Fast-track entry
Live commentary and broadcast viewing to complement the live racing experience
Bring your reusable water bottle to use our water refill stations
PRICE: From AED 620
Experience hours: 13:00-17:30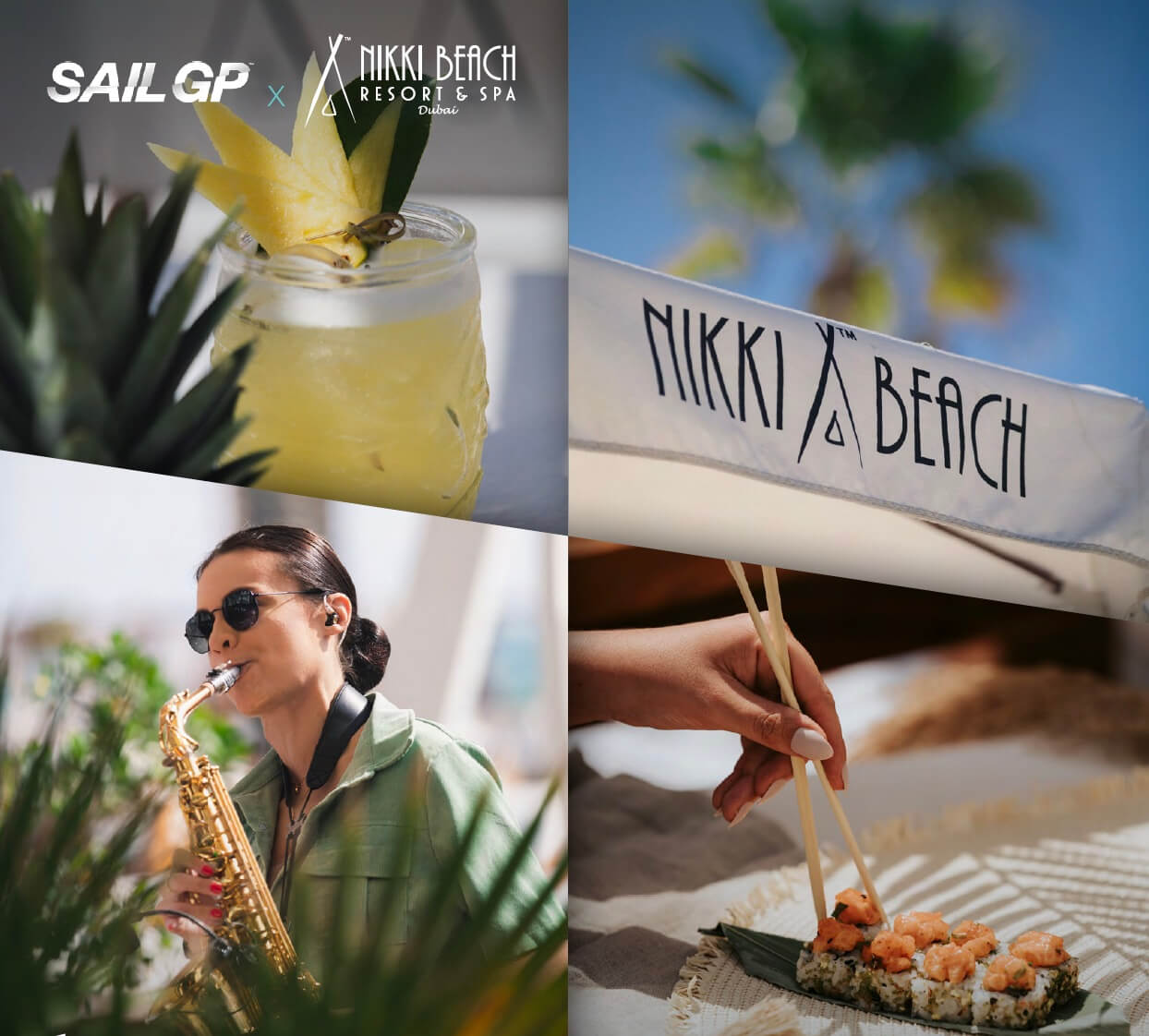 Waterfront Grandstand
Watch the F50 fleet fly at breath-taking speeds just meters from the water. The Waterfront Grandstand is located in SailGP's official Race Stadium, with big screens and accompanying live race commentary, plus access to the food and beverage zone and merchandise stands.
INCLUDES
Grandstand seating at the water's edge in SailGP's Race Stadium with incredible views of the racecourse
Live commentary and broadcast viewing to complement the live racing experience.
Food and beverage available for purchase
Bring your own reusable water bottle to use our water refill stations.
Seats are first-come, first-serve
PRICE: from AED 210, Junior 6-17 AED 65 (Children 5 and under free of charge)
Experience hours: 1300-1630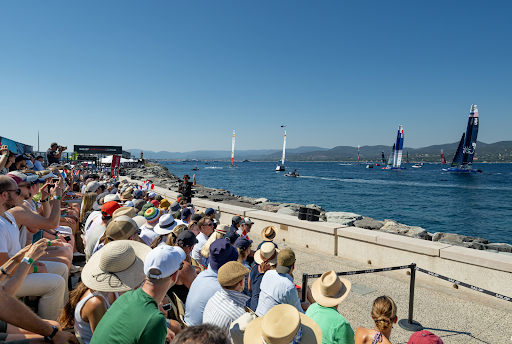 Team Base Tours
Go behind the scenes with an exclusive tour of SailGP's 'pit lane garages', where SailGP's elite athletes and shore teams will prepare the league's cutting-edge, hydrofoiling F50s for battle at Mina Rashid.
Exclusive 30-minute guided tour of SailGP's Team Bases
Bring your own reusable water bottle to use our water refill stations
Climate positive ticket – we will offset the carbon impact of your time with us
Dates: 8th, 9th and 10th December
PRICE: From AED 145 (Children aged 5 and under free of charge)
Age: > 5 years old
Experience hours: 30 minutes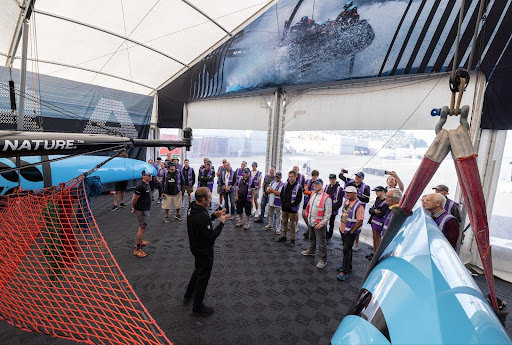 BRING YOUR OWN BOAT
Exclusive viewing areas on the water next to the racing all weekend when you bring your own boat! Receive access to the inner most edge of the public boating boundary and experience the speeds of the F50 catamarans like ever before!
INCLUDES
Access to the perfect position to enjoy the high-speed racing on the water – less than 50m away from the action – on the racecourse perimeter.
Includes Premium souvenir flag for access to the dedicated area. Boats without a flag will be held outside the exclusion zone at least 200m behind the flag bearing boats.
Exclusive access for both days of racing.
Live race commentary over VHF.
We'll offset your carbon footprint for each race day.
The Bring Your Own Boat program is for boats under 80ft. For any vessels over 24m / 80 feet, refer to the SailGP Adrenaline Yacht programme Co-promoted by leading marine services agency BWA Yachting and P&O Marinas. SailGP Adrenaline Yachts is a premium experience for superyachts that offers the best view of the racing on the course boundary at Mina Rashid. Members will also get exclusive access to SailGP's event, to truly receive the most unique experience of the most exciting racing on water. For details about SailGP Adrenaline Yachts please contact: Laura Esteve, Chief Business Development Officer, BWA Yachting. [email protected]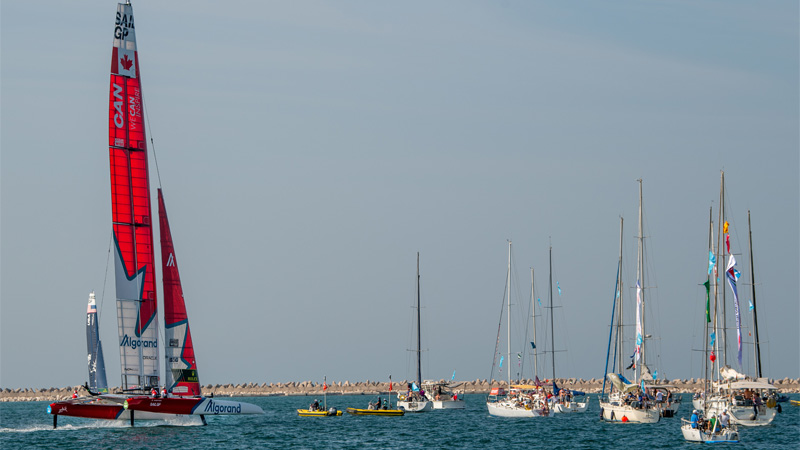 Joint UAE Tickets
Joint UAE Ticket
In Season 4, SailGP offers fans the chance to experience two SailGP events back-to-back in the UAE - first in Dubai on December 9-10, 2023 followed by Abu Dhabi on January 13-14, 2024. The joint UAE ticket offer provides access to both events at a packaged rate, - a must for super fans!
Joint UAE tickets apply to the Waterfront Grandstand and Premier Waterfront Grandstand ticket options at each event.
Premier Waterfront Grandstand Abu Dhabi & Dubai - Price from 950 AED
Includes:
Premium grandstand seating with incredible views of the racecourse
For Dubai only:

Access to Nikki Beach lounge and bar with signature bites and beverages
Two complimentary beverages and free flow soft drinks
Entertainment from Nikki Beach Dubai's resident DJs

For Abu Dhabi only:

A dedicated bar serving beverages and light snacks
Two complimentary beverages and free flow soft drinks

Priority parking and fast-track entry
Live commentary and broadcast viewing to complement the live racing experience
Waterfront Grandstand Abu Dhabi & Dubai - Price from 310 AED
Includes:
Grandstand seating with views of the race course at each event
Seats are first-come, first-serve
Live commentary and broadcast viewing to complement the live racing experience
Food and beverage available for purchase in SailGP's Race Stadium
Bring your own reusable water bottle to use our water refill stations
For juniors aged 6-17yrs, tickets are priced from 125 AED (children aged 5 and under go free of charge